The nails are considered to be an accessory to any outfit and can add a decorative and stylish touch to your appearance. Each year, new nail colors emerge and begin trending, which makes it necessary to stay updated on the latest shades. If you want to have an edgy and stylish look, there are a few nail color trends to experiment with in 2020.
1. Deep blue
Sporting deep blue polish on your nails can allow your fingers to match your favorite pair of jeans. The color shade is increasing in popularity for its moody tone and is ideal to rock during the colder months of the year. Compared to cooler blues, it has a bit of purple in it. It pairs well with most color shades in the outfit and looks chic for its dark hue.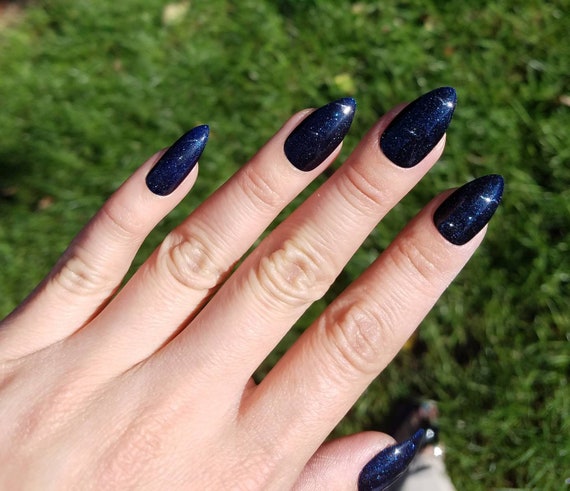 2. Cherry Red
Those who want a pop of color in their look can opt for cherry red polish, which is both cheery and patriotic. The color shade can be worn in the summer to celebrate the 4th of July or even during the holiday season. It's currently one of the most requested shades at nail salons because it draws more attention to the hands and is a modern twist on traditional red.
3. Metallic
Metallic is making a comeback in 2020 as a shimmery and feminine color shade, which pairs well with all types of styles, whether you're wearing casual or formal attire. Metallic is specifically popular during the winter months when everyone is celebrating the holidays. It can continue to be worn on New Year's to celebrate the coming of 2021.
Many people enjoy rocking metallic nail polish due to the different shapes and sizes of glitter specs they contain. The color also hides chips easily to ensure it continues to look flawless for several days or weeks after your manicure.
4. Natural
Less is more with natural nail polish, which is favored by women because it's low-maintenance and can be worn in any season. Natural nail polish is also popular because it's a timeless color shade that is feminine and upscale. It can evoke a casual and relaxed mood that still allows you to look put together when you're wearing your pajamas or are sitting out in your bathing suit.
Natural nails are also a top color shade of the year because they pair well with all skin tones.
5. Gothic
Those who are feeling moody or want to add an edgy touch to their appearance can opt for gothic nails, which consists of any dark color shade. Dark purple or burgundy are some of the top gothic shades that are currently trending and continue to reign in popularity for their chic appeal. Gothic colors are best worn in the fall and winter seasons and pair well with brown, black, and beige shades.
Knowing the right nail polish colors to wear in 2020 can allow you to take your nail art game up a notch and look the part of a cool and contemporary woman. By exploring some of the top colors available, it can be fun to dress up and rock a new shade that is cool and refreshing.