Nails are an accessory on the body that many people enjoy showing off with different paint colors and designs added. Each person differs with their personal preference of the nail shape they choose, which makes it necessary to be aware of the options that are available. When you're looking to revamp the style of your nails, there are a few shapes to consider when spending time at the nail salon.
1. Square
Square nails have increased in popularity for their edgy design. They are also called Ballerina Nails. Many people choose this shape because they elongate the nails and can create a larger canvas for adding nail art. Many celebrities like Zendaya and the Kardashians have embraced this nail shape. Keep in mind that with square nails you won't be able to type quietly on a computer, rip open plastic packaging, or play any sports.
2. Almond
Nails that have an almond shape stand out for their tapered sides that round out into a point, which looks dramatic but still classy. Those that have thicker fingers or wider nail beds can create a more slender shape with almond nails. Although almond-shaped nails are attractive and stylish, don't expect to be able to unbutton clothes quickly, open soda cans, or pick up items off of the ground easily.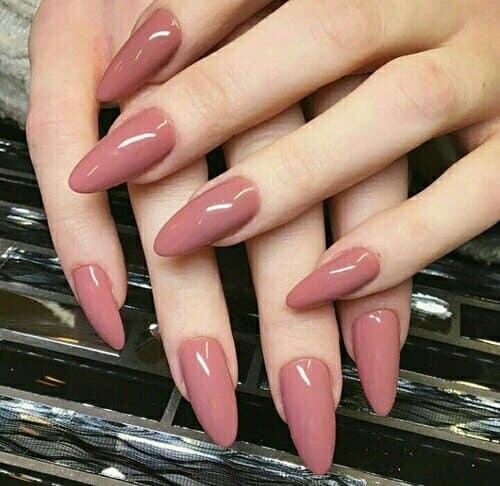 3. Coffin
Coffin nails may have a morbid name but stand out for their resemblance to coffins. Many people prefer this style because they're long and flat on the top, which allows them to look ultra-cool. There are a variety of different ways to paint and decorate coffin nails, which makes them fun to wear. Some people create a dramatic gradient on the nails for those who want a touch of color. Neon coffin nails are also popular because they draw attention to the hands and are ideal to rock during the warmer months of the year when spending time poolside or at the beach. Those who shorter or thicker fingers can allow their hands to look slimmer and more feminine with this shape due to their length. They do require a bit of maintenance though and can break easily, which makes it necessary to use caution with different activities or tasks that are performed throughout the day. Avoid using your nails to grip items or to cut open plastic wrap on various items.
4. Round
Those who choose to have round nails can embrace a style that is similar to oval nails, especially when you grow them out. They combine short lengths with curved edges and tips and are more conventional with their design. You may want to consider selecting round nails because they don't chip or break easily, which can allow you to continue to perform physical activity or use a computer keyboard. Their smaller size makes them extremely durable and more realistic to have for those who clean their house a lot or perform manual labor.
5. Oval
Oval nails are one of the most classic shapes to choose and mimic the shape of the base of the nail, which makes them ideal for those who don't want a look that is overly edgy or dramatic. They're favored because they can elongate the nails and create a balanced look by narrowing wider nail beds. The shape is also easier to maintain because it's less prone to breaking due to its size, which means you won't have to head to the nail salon as often. One of the main benefits of oval nails is that it won't limit the activities that you can participate in, which offers more flexibility and convenience.

It's important to understand the different nail shapes that are currently trending to ensure you can draw more attention to your hands. With the right shape selected, you can enjoy a bit of change and have more confidence each day with nails that represent who you are as an individual. By visiting Heavenly Nails,  you'll allow yourself to be beautiful in a comfortable setting. After that and you are hungry, here is the list of top restaurants in Chiang mai.