Chiang Mai is located in northern Thailand where vestiges of the old moats and walls are still present from when the city was originally founded in 1296. The night markets that are available throughout the week are also a popular draw and are a great place to find local produce or handmade goods while immersing yourself in the culture. When planning your next trip, there are a few night markets in Chiang Mai to include in your itinerary.
Sunday Night Market
Known as "Walking Street," the Sunday Market is open on Sundays from 4 p.m. to 12 p.m. and is situated in front of the highly revered Wat Phra Singh. As one of the largest markets in the local area, it's challenging to find the end of the market due to how far it extends along Ratchadamnoen Road. Here, you can find plenty of fresh flowers, paintings, handbags, delicious food, and even fried insects. It's the perfect place to visit if there's something specific that you're looking to purchase and if you want to stay busy for several hours.
Both tourists and Thai locals are known to shop here, which continues to get bigger every year. It's considered to be a place to find excellent craftsmanship of the local Thai people with items made from a variety of materials like silk, ceramic, fabric, wood, metal, and paper. Handcrafted items that are easy to find at the location include jewelry, shoes, Thai silk boxer shorts, and clothing.
Many restaurants and coffee shops are also present in the area where you can take a break before finding more items to purchase. One of the best parts of the market is when the street entertainers come out where you can enjoy watching bands, puppeteers, and Thai dancers perform. At the end of your shopping excursion, be sure to stop by one of the vendors for a relaxing foot massage.
Saturday Night Market
Located along Wua Lai Road, the Saturday Night Market is in the south of the Old City and welcomes visitors to shop between the hours of 5 a.m. and 10 p.m. It's not hard to get to and can be reached by foot from the Tha Pae Gate. The market offers an authentic experience with plenty of people present in a small space. It's easy to find vendors selling instruments where you can pick up a handmade ukulele or ocarina. Many textiles and handmade goods are also sold at the location. Authentic food is easy to find where you can order papaya salad and fresh smoothies. Many people also come for the authentic rocket waffles for a sweet treat. Many of the vendors are willing to bargain, which makes it easy to find a great deal.
The offers for massages are also neverending and will allow you to take a break from exploring everything.
Night Bazaar
The Night Bazaar is a true gem in Chiang Mai along Chang Klan Road that is open seven days a week and attracts thousands of people each day. It's a great place to find more than just produce and food with vendors selling items like fake Rolex watches, clothing, and cheap DVDs. It's an ideal market to visit if you want to add a few new items to your wardrobe or purchase souvenirs. When you need to refuel and want to grab a bite to eat, there are many local and international restaurants located around the market and are within walking distance. You can even find a few eateries that offer live music and traditional Thai dancers for a bit of entertainment while you eat.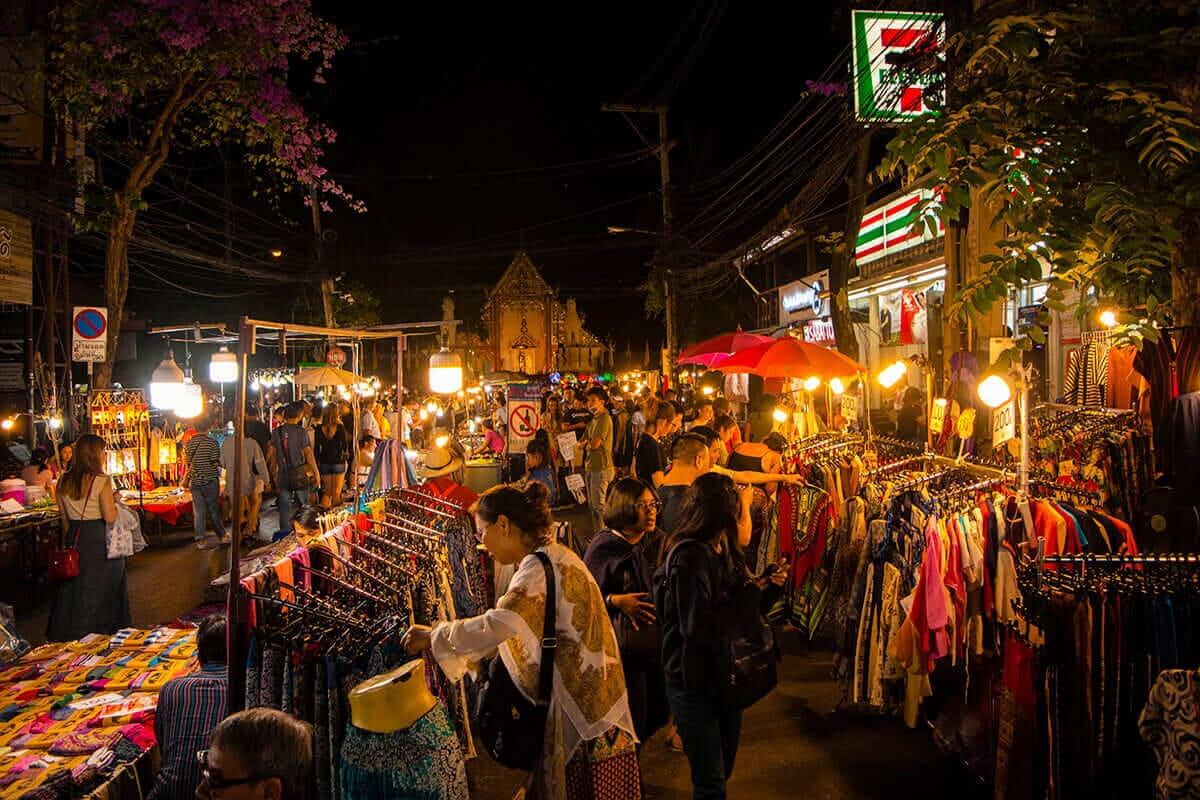 By exploring some of the top night markets that are available in the city, you can meet some of the local vendors and find a few treasures to take home. Each market offers something different and will invite you to find items that will always remind you of the region. Before heading to the Night Market, here is the list of the
Top restaurant in Chiang mai
. If you want to allow yourself to recharge and relax in a comfortable environment before the night time trip, please stop at
Heavenly Nails.